WHAT IS EMERGENCY MANAGEMENT?
Emergency management, also known as disaster management, is a discipline that deals with avoiding natural and man-made disasters.
Professionals in this field are engaged in disaster preparedness, response and recovery with the goal of lessening the impact of these disasters.
Legal representatives in these areas provide essential services including threat assessment, evaluating emergency response procedures and establishing guidelines for providing disaster relief in accordance with appropriate laws.
Emergency management professionals are the calm during the storm. They provide essential services before, during and after disasters.
An emergency management program is based on a risk management approach and includes activities in the five core components of emergency management: prevention, mitigation, preparedness, response, and recovery.
The implementation of an emergency management program will ultimately save lives and money, protect property, public health and the environment, maintain economic stability, and help assure the continuance of critical infrastructure. This will be accomplished by preventing some emergencies before they occur, lessening the frequency and potential impact of others, and by speeding the recovery process following an event.
KEY PRINCIPLES OF EMERGENCY MANAGEMENT FOR ONTARIO
Prevention: Actions taken to prevent an emergency or disaster.
Mitigation: Actions taken to reduce the effects of an emergency or disaster.
Preparedness: Actions taken prior to an emergency or disaster to ensure an effective response.
Response: Actions taken to respond to an emergency or disaster.
Recovery: Actions taken to recover from an emergency or disaster.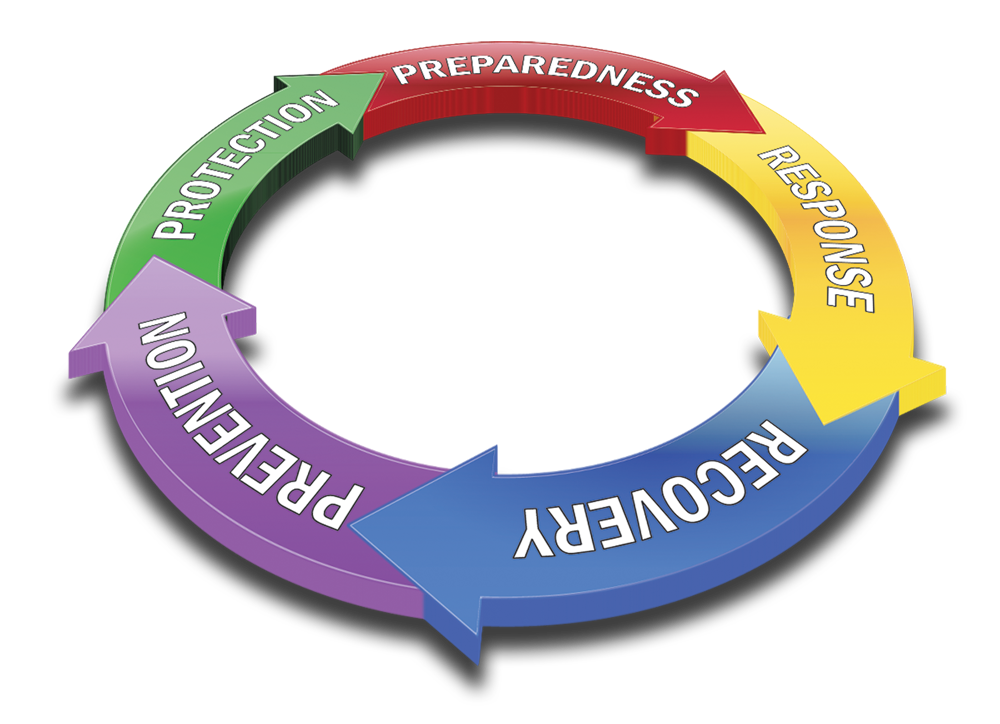 The key principles in emergency management are: Risk Management; Continuity of Operations/Business Continuity; and A System of Partnerships.
When an emergency develops it is important to react quickly, calmly and in a controlled manner.
Our user friendly and concise plans cover the major elements of an emergency management system including:
Preparedness
Training
Exercise
Administration
Response
Organization
Communication
Resource inventory
Hazard Analysis Procedures
Emergency Response Plan
Ensures that your system is customized to your needs and satisfies any corporate or regulatory requirements.  Emergency response plans developed by our team are functional, complete, and user-friendly.  When the job is done, your organization will have a plan that your people will own and have confidence in.
Business Continuity Plan
Because recovery from disaster or disruption involves processes that extend beyond emergency management, organizations today require business continuity as well as emergency response plans.  Are you prepared?  Our team can help you integrate your emergency management plan with your overall business continuity plan.
Crisis Communications Plan
Crisis communications planning can address all facets of communications including plans, holding statements, media training, social media and messaging management.
Our auditing process, works with you to provide an practical evaluation.
We'll provide you with a professional opinion as to your state of preparedness. When ERMC works with a client, we not only raise awareness about potential dangers and work to minimize hazards – we make sure you have the knowledge to effectively manage dangerous situations.
Hazard Identification and Risk Analysis    HIRA
Our Team will work with you to identify existing hazards presented to your organization.   Risks are subjectively ranked on the basis of impacts to the public, the organization, the environment.  Included in this analysis is an evaluation of the resources in place to deal with the risks identified.
 Plan Review
Review any of the following:
Emergency Response Plan
Business Continuity Plan
Crisis Communications Plan
provide a comprehensive review with practical, recommendations.
Emergency Response Management Program
Policy – Emergency Management
Emergency Planning Committee
Hazard and Risk Analysis
Emergency Response Plan
Training program
Exercise program
Consulting and Education
Our team develops emergency management and business continuity programs tailored to meet your specific organizational requirements.
Our team provides public and private business and organizations with continuity and emergency management education across the country
Our team provides an objective assessment of existing business continuity or emergency management programs which can provide you with potential savings.
Our team provides design, facilitation and evaluation services for tabletop exercises.